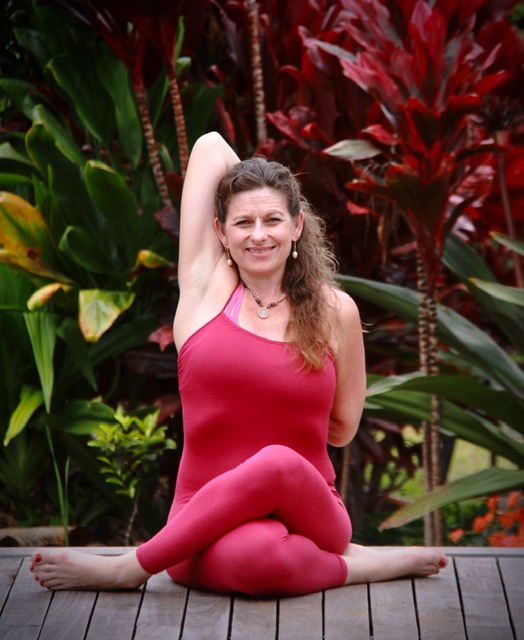 Bhavani Maki
Yoga Intensive Workshop
April 26-28, 2019
International Yoga teacher, author, and musician, Bhavani Maki will be sharing her joy and passion of Yoga and the Yoga Sutra during this Yoga Intensive weekend, suitable for all teachers and students of Yoga. Please join us!
International Yoga teacher, author, and musician, Bhavani Maki was raised quadrilingual, in a multicultural European family, and has traveled extensively from a young age. Bhāvani attended her first Yoga class at the age of nine, and began her exploration of Patañjali's Aṣtānga Yoga in 1987. She began teaching and founded Aṣtānga Yoga Kaua'i in 1995, Yoga Hanalei in 1999, and has trained over 300 Yoga teachers since 2003. Bhāvani has made seven trips to Mysore, South India, to study with Srī K. Pattabhi Jois, as well as having the rare opportunity of hosting him twice on her home island of Kaua'i. She received her teacher training and authorization from Aṣtānga Yoga Masters Baba Hari Dass of Hardwar, North India, and Srī K. Pattabhi Jois. Bhāvani studied Saṃṣkrta in Mysore, India with Professor Narayanāchārya, and regards Rama Jyoti Vernon as integral in her understanding of the Patañjali Yoga Sūtra.
Since 1993, Bhāvani has resided on the island of Kaua'i, where she continues to live with her husband Ray and son Niko, on their organic farm and nursery, Permaculture Kaua'i. She offers Yoga classes, intensives, and annual teacher training programs at her studio, Yoga Hanalei, as well as annual workshops on the US mainland and Europe.
Her web address is: bhavanimaki.com
4/26/19 Friday Evening 5pm-7:30pm
Restorative Yoga for the Psychonaut
Much like an astronaut, the psycho-naut ventures into the wide unknown of their own consciousness! Yogik posture is the seat from which Yoga begins and is meant to be practiced along with the study of metaphysical texts. Combining longer holds in deep hip openers with philosophy, we will continue to explore the ultimate text for Yogi—the Yoga Sutra. We will conclude the session with an exploration of Pranayama.
4/27/19 Saturday Morning 9:30am-12pm
Suryanamaskara C: A Meditation on the Joy within Vishoka va Jyotishmati
Standing and balancing postures linked with Vinyasa cultivate a stable foundation in our ability to set clear roots and provide a firm grounded basis for the wellspring of Joy. The unpredictability of Surya Namaskara C keeps the experience fun, and helps us connect to a feeling of lightness in our heart's center.
4/27/19 Saturday Afternoon 2pm-4pm
Patanjali Yoga Sutra: Neuro-patterning
With a sharp and clear understanding of what spins in our minds, we can get off the roller coaster of the "monkey mind", and begin to unravel ourselvesfrom unconscious conditioning. Modern science reaffirms Patanjali's teachings, and provides us with a modern map to understand the electrical impulses and where they arise in the nervous system through neuroscience.
4/28/19 Sunday Morning 9:30am-12pm
Hanumanasana - a leap of courage
Unlocking the pelvis liberates the stem of the spine, the flower of the brain and ultimately the nectar of clear consciousness. An exploration of hip openers, in a way that is safe for the knees, and appropriate for the spine.
4/28/19 Sunday Afternoon 2pm-4pm
Patanjali Yoga Sutra Talk: Emotional Intelligence
The science and art of Yoga maps out the embodiment of physical, intellectual, and emotional intelligence. Yoga invites us to develop our psycho-spirituality nature, and includes the cultivation of emotional intelligence. Through the growth of our physical, mental and emotional bodies, we awaken to the spiritual life.